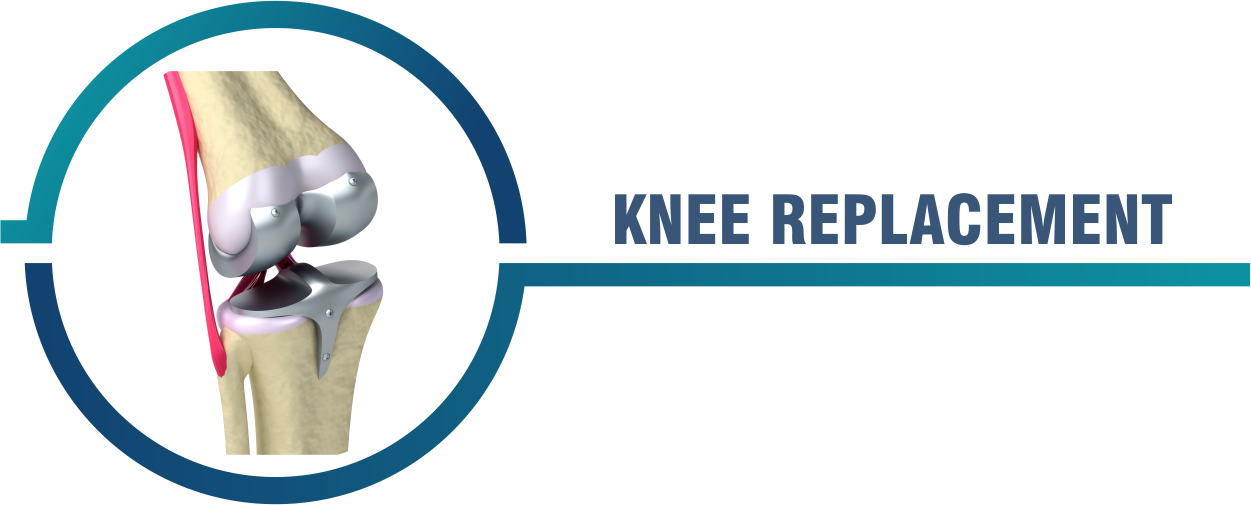 About Knee Replacement
Knee Replacement Surgery also called knee arthroplasty (ARTH-row-plas-tee) — can help relieve pain and restore function in severely diseased knee joints. This is a surgical operation, within which the damaged, diseased or worn knee is replaced with a synthetic surface, after removing the first one. It involves cutting away damaged bone and cartilage from your thighbone, shinbone and kneecap and replacing it with a synthetic joint (prosthesis) product of metal alloys, high-grade plastics and polymers. The knee replacement procedure is performed for relieving the incapacity and pain that are caused by meniscus tears, cartilage defects, osteoarthritis, and ligament tears.
Types of Knee Replacement Surgery:
Total Knee Replacement.
Partial Knee Replacement.
Symptoms
Persistent or Reoccurring Pain.
The pain prevents you from sleeping.
You have difficulty doing daily activities including walking or climbing stairs.
Your knees are stiff or swollen.
Knee deformity — a bowing in or out of the knee.
Osteoarthritis.
Rheumatoid arthritis.
Gout.
Knee Injury.
Necrosis.
Unusual Bone Growth.
Risk Factor
Risk of anesthesia.
Postoperative infections.
Development of a blood clot.
Bleeding.
Damage to arteries.
Neurovascular damage.
Loss of Motion.
Implant Failure.
Problem with prosthesis used.
Knee Stiffness.
Investigations
Medical history of the candidate.
Overall physical examination.
X rays.
Optionally, MRI scan.
Medical evaluation.
Medications that are being taken presently.
Urine and blood tests.
ECG.
Dental evaluation to evaluate the infection possibilities
Procedure
India
Turkey
Dubai
(Price in USD)
(Price in USD)
(Price in USD)
Knee Replacement Surgery
5000
5000
31000
Revision Single Knee Replacement
4320
7000
28320
Knock knee surgery
3500
6000
10300
Minimally Invasive Knee Replacement Surgery
4000
5000
13000
Unicondylar Knee Replacement
5000
-
30500
Knee Replacement - Bilateral
6500
8000
31000
Note : This is an approximate cost and may vary depending on various condition of the patient health after physical evaluation.
Side Effects
Fever greater than 100 F (37.8 C).
Shaking Chills.
Drainage from the surgical site.
Increasing redness, tenderness, swelling and pain in the knee.
Artificial knees can wear out -Another risk of knee replacement surgery is failure of the artificial joint.
Daily use wears on even the strongest metal and plastic parts.
Joint failure risk is higher if you stress the joint with high-impact activities or excessive weight.
Success Rate
The success rate of the knee replacement surgical operation in India is nearly near 100%. There are only a few cases recorded that posed complications post the surgery, but none of the complications was prolonged. The recovery time might get extended, but every patient gets back to his or her routine life during a span of 12 weeks to six months. Approximately 85% of artificial knees implanted are in working mode even after 20 years of the surgery. within the majority of cases, the maturity people between 50 and 80 years old undergoing this surgery have recovered completely and bounced back to leading a healthy life and have relieved themselves from the chronic knee pain.